---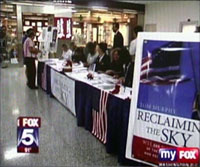 The book "Reclaiming the Sky" Offers Profiles
in Aviation Courage
View news clips from the book's 2006 introduction at the Pentagon - interviewing American Airlines Flight Attendant colleagues of the crew from Flight 77.


- All author profits support Aviation Charities. Learn how each charity is serving its community in unique fashion.
- Read first-person accounts from today's aviation professionals who embody the resiliency principles reflected in Reclaiming the Sky's stories of aviation courage:
- See photos from several of our participating charities' 9/11 anniversary Remembrances.
---
"Claiming Your Sky" Supports Students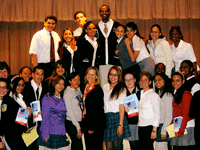 We offer a program that helps students prepare for a career in aviation using the principles in the book.
- "Claiming Your Sky" puts the "leadership principles" from the stories into a curriculum to help students enhance decision-making skills, deepen their capacity for empathy and increase their chances for aviation employment.
- Read Denis' Hamill's column in the NY Daily News.
---
- Read testimonials from Denis Hamill, John J. Nance, Denise Morrison, Doug McCormick and other leaders, as well as press clips.
- Get tips to create a Book Club. Expand your discussion of the "resiliency" themes of "Reclaiming the Sky" with friends and colleagues.
- Listen to a Radio Interview. Part One, Two, Three, and Four. Want a CD of this interview? Contact us.
---
- Sign up for our NEWSLETTER and get regular updates and news.
Read more about our Purpose
Read and view video Newsclips
Contact the program director: Tom Murphy .org


Privacy pledge: if you register to receive our newsletter, we will not share your contact info with anyone, or any group.