---
Turning Loss Into Positive Action
By Marcus Flagg

My name is Marcus Flagg. My parents, Bud and Dee Flagg died aboard American Airlines flight 77, when it was crashed into the Pentagon. I am a U.S. Naval Academy graduate and a Navy F-14 Tomcat fighter pilot for over 10 years. Currently, I am a United Parcel Service Boeing 757/767 First Officer flying domestically and internationally. I have been involved in the Federal Flight Deck Officer program from its inception to unending improvements and continue to advocate aviation security as President of Passenger-Cargo Security Group.
September 11, 2001, a Tuesday morning which irrevocably changed the world as you and I knew it. That morning I awoke to see the second aircraft impact the South Tower of the World Trade Center. I knew immediately this was the work of terrorists. My first reaction was to call my father, also a U.S. Naval Academy graduate, fighter pilot, retired Navy Rear Admiral with 38 years active and reserve service and also a retired American Airlines Captain with 31 years of experience. He and my mother were high school sweethearts who married and had a happy, successful life together.
The relationship between my father and me was very close and we usually spoke on the phone at least once a week about a wide range of subjects including farming, stocks, and flying, as well as the latest news about the Navy, airlines and world events. I followed in my father's footsteps for quite a while and relished doing so. He believed that terrorists would never strike in the United States, because their money came from us. That mistaken belief haunts me.
I was unable to contact my parents that morning because they were flying to Los Angeles aboard American Airlines flight 77. I knew they planned to make the trip but not exactly what day they would leave. They often traveled on the spur of the moment. After hearing about the crash of Flight 77 and the numerous unanswered calls to their home, I had the terrible feeling that they were aboard that aircraft. My phone call to American Airlines reservations confirmed my worst nightmare.
The coincidence of my parents traveling that day is eerie. They were traveling aboard an American Airlines 757, the same airline and type of aircraft that my father had flown. During his Naval service at the Pentagon, his former office was in the same vicinity as the impact area. My mother supported him through both careers and frequently accompanied him on his trips and had visited his Pentagon office.
The sad fact of being an aviator and a former accident investigator is that you fully understand what takes place in an aircraft accident. I knew that the largest piece of the aircraft recovered would be maybe the size of quarter, but my worst fears were that the authorities would not find any remains from the intense fire. These thoughts were only shared with fellow pilots, because I knew how devastating this information would be to my family. Nightmares and the frustration of not having control of the situation compounded the stress.
On September 21st I had to travel to Annapolis in order to make arrangements for my parent's memorial service and burial at the United States Naval Academy. When I left the farm I did not know about the surge in patriotism in the country or that American flags were being displayed far and wide. I felt reborn seeing the flags everywhere I looked. I was overwhelmed with gratitude for the silent symbols of support and pride for our coming together as a nation. I cannot adequately put into words my emotions that day, but I remember feeling, maybe my loss was worth it, if our country stood together united.
During services at the U.S. Naval Academy gravesite, a fly-by missing man formation provided by American Airline pilots flying in Naval Reserve fighter aircraft left not a dry eye, including mine. I couldn't help thinking that my dad would have appreciated dual career Navy Reservists honoring him.
While attending an Inaugural Ball this year, I met several soldiers who had served in Iraq and Afghanistan who were recovering from severe wounds. Some had lost limbs due to their injuries. Their courage and determination in the face of adversity inspired me. I became involved with a group called Circles of Influence in an effort to help the severely injured service members, their wives, widows, and orphans. This project located at the Portsmouth Naval Shipyard, will be a non-profit program to offer physical and psychological rehabilitation, job training, and family support completely free of charge to service members and their dependants following treatment at Landstuhl Hospital in Germany, Walter Reed Hospital, and Brooke Army Medical Center.
In July 2005, Move America Forward and U.S. Central Command invited me to participate in "Voices of Soldier's Tour". This group of nationwide talk show hosts and documentary filmmakers traveled to Baghdad, Iraq in order give soldiers a chance to tell about their experiences. My purpose was to simply represent families affected by September 11th by showing my overwhelming support by personally thanking as many soldiers as I could.
During my time in Baghdad, I visited with several hundred soldiers, who joined the military because of September 11th. I considered it an honor to meet these men and women and humbled to be in their presence. They expressed their pride in the job they are doing there. As a former Naval officer I understand and support them in their mission. Following the devastation of Hurricane Katrina's wrath, citizen soldiers are once again called to help and protect. Whether these soldiers serve in Iraq, Afghanistan or along our southern coast, we all owe them a debt of gratitude.
During the trip I spent four and half days in Baghdad baking in 120-degree heat. I rode the Rhino Express both directions along Airport Highway, which is sometimes called, "The Highway of Death." The little sleep I did manage was on a cot in a tent, with most of the time spent speaking directly with the soldiers. I was offered an opportunity to go on patrol with the Tennessee National Guard, Troop F, 2/278 Regimental Combat Team attached to the 4 Brigade, 3 Infantry Division at Camp Prosperity. I went with this group into the Red Zone.
Downtown Baghdad is very different from the mainstream media reports. Riding in a Humvee, I saw a city very much like a big South American city. Businesses were open; people were out walking, and a typical morning rush hour. Overall it seemed calm. We stopped in an area that was severely bombed by coalition forces. Adults and children came out to greet us and we in turn handed out food, candy, and toys. In the course of the next two hours we stopped in different locations. This was an incredible sight to behold. My smile was just as big as the children's smiles. A few of the adults spoke broken English, but their sentiments were clearly understood. Thank you.
I cannot speak highly enough of the coalition forces providing security in and helping to rebuild Iraq. An Estonian combat officer traveled with me everywhere I went while I was in Baghdad. He told me that he remembers what life was like in a society that was not democratic and lacked basic freedoms. His priority while serving in Iraq was to offer the same basic freedoms that he cherishes to the Iraqi people. Along with many other coalition soldiers I had the privilege of meeting he expressed that Americans take our freedoms and democracy for granted.
Out of great personal and national tragedy, I have gained a greater sense of appreciation for our nation, our freedoms, and my responsibilities as a citizen of this great republic. I would willingly have given my life to prevent the tragedy that was September 11th. Not one day has gone by since my parents were murdered that I don't miss them terribly. As a result of my personal experiences I have become active in supporting measures that I believe will make another attack on the United States less likely and provide assistance for our troops in the global war on terrorism. There are many other important projects which I have devoted time and effort, from the 9/11 Aircrew Memorial and the Pentagon Memorial, to Take Back the Memorial at Ground Zero in New York. All of these are important not only to the 9/11 families, but to America as well.
---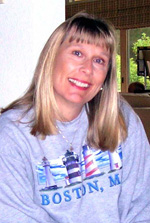 Reflecting: Four-Plus Years Later
Debra Schlehuber reflects on the emotions she felt during her first trip back to Ground Zero.




By Debra Schlehuber
American Airlines Flight Attendant
Los Angeles Base




It's been four plus years since I wrote an email to friends and family after 9/11. I wanted to tell them about my first visit to Ground Zero on a layover on September 27, 2001. For myself, I needed to get into words what I had seen but also share the experience. It seemed unreal and I felt somewhat numb after viewing the sight. I found it hard to believe that I had indeed gone to Ground Zero and looked at it, although I had felt compelled to do so. I needed to get my mind around the fact that two wide-body aircraft lay in that gigantic pile of rubble once known as the World Trade Centers. I had not attended any memorial services going on around the country, at my crew base or in my home town and this seemed to be the thing I needed to do to process the awful reality of it all.
I was on vacation during the attacks and actually at home the morning it happened. Ironically, I had been planning on going to Boston to visit a fellow flight attendant buddy (who lost several good friends on the Boston crew). However, my mother had suffered her first heart attack and that kept me from leaving town.
That first trip back "on the line" as we call it was weird. It was on a 757 and while the trip was from Los Angeles to Newark, we were scheduled for a layover in downtown Manhattan. I actually felt okay as I prepared for my trip, drove up to LAX and checked in. There were memorials in the operations area to view, dozens of messages, security briefings and information to go over. I was busy and pre-occupied with these things as I walked down the jet bridge to board the aircraft.
Los Angeles, Washington DC, New York and Boston crew bases took turns manning flights 11 and 77 for American. It just happened that this particular month the east coast bases manned these trips instead of Los Angeles. There had been more than one occasion that I and many other flight attendants had worked on flights 11 and 77. I was thinking about this as I crossed the threshold from the jet bridge to the aircraft. Just doing this generated an immediate sensation - apprehension and some nervousness.
Suddenly I found myself thinking, how did it go down? How much time did the flight attendants have? Did they see their attackers face - have a chance at all to fight back? Where were the terrorists sitting? Did the passengers and crew know they were hurtling through downtown Manhattan? How many of the crew tried to call on their cell-phones to management, friends, family, anyone they could reach? As I stowed my bags and proceeded down the aisle to the back galley, I realized my heart was beating a little fast and I started to feel somewhat anxious. I also noticed that I felt angry. Those feelings and so many others stayed with me long after 9-11. I would go through these feelings and then alternate with numbness other times.
Yes, many of us did come back to work right away and some of us did not. It was a whole new work environment and not very comfortable at times. Flight attendants found themselves looking at passengers more carefully, studying their carry-on baggage longer, and watching the interactions of people on the aircraft differently. It suddenly felt like we were in opposite camps and not trusting one another. Another friend said it hit her while flying her first trip after 9-11 and pulling out plastic silverware for the first class meal service. It was something so simple and yet so symbolic, using plastic knives in place of metal.
I remember the first time I worked Dulles airport after 9-11 several months later. It happened to be the same trip departure that was formerly 77 (now with a new flight number) and still on a 757, but manned by Los Angeles crews this particular month. We used the same jet-bridge that flight 77 departed from that morning.
I found myself imagining the crew preparing for the flight, planning on where to have dinner that night once in Los Angeles….not knowing what lay ahead in the next hour of their lives as the aircraft pushed off the gate. I thought about the one flight attendant on the crew that I did actually know, a tall blonde girl with a big smile named Renee May. She was close to my seniority and years earlier we had been based at DFW at the same time, had flown a few trips together. I thought about her walking on board the aircraft that last time.
Rage, anger and hurt well up at unexpected moments, sometimes on the aircraft, sometimes out of the blue. How can people ever get over this? How can the families of the fire-fighters, police-officers, passengers, people that worked in the towers, flight attendants, pilots and all of us that work for American really heal and move past this?
Well my solution was to avoid viewing it all together which I studiously did for almost 3 years. Every time anything about it came on T.V., I boycotted it. The discussions I had about it were with other flight attendants and we soon fell into silence or changed the subject after one of us brought it up. Mostly I wanted it to be past, I did not wish to revisit it over and over again. I wanted to shake people that said "don't forget 9-11!". Could you ever, really? Over time I did find ways to avoid discussing, reading, debating the issue, viewing the scenes and experiencing those feelings or anger, rage, frustration and grief. Or so I thought.
Around the time of the 3rd anniversary, CNN happened to be showing a special segment about how they handled the reporting of 9-11. I was stuck in Dallas/Ft. Worth on a short layover and while channel surfing stopped to see what it was about. I told myself I would view it for just a few minutes because I thought it would be from the perspective of the news anchors, more like a documentary, less emotional. I was breaking my boycott rule.
Instead, the moment the sound of the jets hitting the buildings started, the moments the chaos and suffering of thousands started to replay, I did not turn it off. Instead, I sat there and lost it. I continued to watch and I let it come out. I had pushed it aside for years and found that I could do it no more. The energy I had spent in trying to ignore it while still dealing with it on the aircraft in my daily work life had simply been spent and could no longer be summoned. It was time to really grieve and let it out.
So this is what I have learned about grief, about sorrow, about healing. That you must let it take place in its own time, but you must not shut it down or continually push it away forever. It must be acknowledged in order to be healed. I thought that by getting back to work right away and facing the reality of how dangerous our jobs as Flight Attendants had become that I had dealt with it. I had intellectually, but not emotionally.
Now in this 4th year out from 9-11, I find that I'm still angry sometimes. I can still get choked up when I see reports about it, but I will watch for awhile. Just the other day I sat in the waiting room of my dentist's office, early for my appointment. On the table was a large glossy tribute book to 9-11 and those that died that day.
I picked it up and actually flipped through a few pages but soon put it aside. For today, that was enough.

---



Any comments? Anything you'd like to share?



Enter your comments below. (If you have a longer "story" to tell, or a story about your experiences, please feel free to go to the PROUDLY I FLY page click here.)




Readers' comments will be discussed in the next edition of our email newsletter. To register for your copy, click here

If you find this forum useful - please tell a friend. The more people who join in, the richer the results for all.