Reclaiming The Sky -
9/11 - And the Untold Story of the Men and Women Who Kept America Flying
By Tom Murphy
| | | | |
| --- | --- | --- | --- |
| | In the days after 9/11, American Airlines crews based in Washington, D.C. opened a "DCA Gathering Place" where they could offer comfort to each other. A group of Flight Attendants promised to keep the "spirit" of the room alive by devising charity projects to commemorate friends and colleagues lost on AA Flight 77, including Flight Attendants, Michelle Heidenberger, Renee May and Ken and Jennifer Lewis, and the pilots, Captain Chic Burlingame and David Charlebois. This chapter from Reclaiming the Sky touches on two of those charity projects. The narrator recounts how he learned about them. | | |
---
CHAPTER TWENTY-TWO
Dirt Therapy
This email message from American Airlines flight attendant, Debbie Roland, part of her outreach to six hundred people on her "DCA Gathering Place" list, prompted another step toward moving past the horrors of 9/11: ANY MEMBERS OF THE DCA BASE WHO WANT TO CONTRIBUTE TO THE TOY DRIVE AT ST. ANN'S, LET ME KNOW. St. Ann's is a home for unwed mothers and abused children in Baltimore.
"We are supporting a toy drive at St. Ann's every year to honor Michelle Heidenberger," Debbie said in response to my email requesting more information. "After we closed the DCA Gathering Place, our group made a commitment to keep the spirit of the room alive by doing charity projects for our friends lost on Flight 77."
I sent a check for $50, and got back another email a week later with the following message: YOUR $50 BOUGHT A BALTIMORE ORIOLES CAP, A BOX OF LINCOLN LOGS, THE GAME CANDYLAND, TWO BARBIES, SIX BOXES OF CRAYONS AND A YELLOWSTONE NATIONAL PARK COLORING BOOK.
This piqued my interest further, so this time I called. Debbie is busy, not only with her duties as a union rep, but with work on various committees dedicated to in-flight safety. In addition, she serves as a member of the Wings Foundation, Inc. Board of Directors, a non-profit organization assisting American Airlines Flight Attendants in times of distress.
"Can you tell me more about the toy drive?" I asked.
"Michelle used to volunteer at St. Ann's, so we support their toy drive each year to keep her memory alive for the kids. It was Toni Knisley's idea," she said. "Toni is a fountain of great ideas."

I called Toni, the DCA Flight Service Manager, who said that one day before Christmas, 2000, Michelle had stopped by her office (at Ronald Reagan Washington National Airport) before taking a turn to Dallas.
"That was her custom," Toni said. "She'd pop her head in and say hello before catching her early morning flight."
The two began talking about Christmas, and Michelle asked Toni if she should pick up teddy bears for the kids at St. Ann's. Earlier, someone at Michelle's church had mentioned that St. Ann's needed volunteers, and Michelle had responded immediately.
"I rock the babies and feed them," Michelle had said proudly.
"That's nice," said Toni, and she took a call. It can get hectic in the morning as the phones begin ringing off the hook.
"But the kids never get toys," Michelle continued. "What do you think about teddy bears?"
"I don't know about teddy bears," said Toni as she took another call. It's hard to concentrate on casual conversation when you've got to get flights out. "Teddy bears sound good. Who doesn't love a teddy bear?"
Michelle waved good-bye, a big pinwheel of a wave, as Toni signaled good-bye and took another call.
After 9/11, people from around the country sent teddy bears to Washington, D.C. in sympathy for the flight attendants who had been lost on Flight 77. The teddy bears came addressed to American Airlines, Washington, D.C., but for some reason they all ended up in Toni's office, boxes and boxes of them.
"You wouldn't believe how many teddy bears I got," Toni said. "From Bogotá, Bavaria and Baton Rouge. Teddy bears piled floor to ceiling."
Toni didn't have to think about what to do with them. As Christmas 2001 drew near, Toni rented a truck, loaded up the teddy bears, and drove to St. Ann's to meet with Sister Francine, who had been Michelle's contact at the home. Sister Francine offered to take Toni on a tour, which concluded in the recreation hall, where Sister Francine pointed to an empty bookcase.
"Michelle wanted to fill that case with videos for the children," she said.
Toni could hardly restrain herself as she let out a "Ringee Ding!"
"Excuse me?" asked the sister.
"You just gave me an idea for our next DCA Gathering Place project."

Flight attendants from the DCA base began work on the St. Ann's video project in March 2002. Before it was over, the group had enlisted enough support, including cash and contributions, to present the kids at St. Ann's with a big screen TV, VCR and DVD player, and a video library with more than a thousand titles.
"We made an event out of it," said Debbie, speaking for other members of the team who led the effort, including Michelle Smith, one of Michelle Heidenberger's closest friends and her regular flying companion. "We set aside sections in our homes to receive the it all, piles of videos that rose to the ceiling."
By the time they were finished, the once barren recreation hall had been made into a screening room big enough to make a Hollywood mogul blush. But the team didn't stop there. After the video project, Toni got another idea. She got a call from a flight attendant who wanted to know if it would be okay to raise money to plant a tree in a park in Culpeper, Virginia as a tribute to Ken and Jennifer Lewis who had lived in the town.
"Sure," said Toni, but later, after she learned how important the environment had been to Ken and Jennifer, it occurred to her that something "bigger" might be better. One day she drove out to talk to the city manager in Culpeper, a small town two hours outside Washington, D.C. He told her how much Ken and Jennifer had loved Yowell Park.
"That gave me the idea to do this on a grand scale," said Toni. "It was the summer of 2002 and we had the experience of the video library under our belt." Toni sent an email to the other DCA flight attendants asking if they wanted to get involved. The response came back like a mighty wind: when do we start?
"We thought we'd buy half a dozen trees and be done," said Toni. "But, boy, did it grow!"
Flight attendants from the DCA base told friends, who in turn told friends from other bases, who told pilots, and soon Toni was besieged with offers of help from hundreds of people across the country, all with suggestions. "They wanted to know how much of the park we could take over."
Toni drove out to Culpeper again, this time to meet with the town council, which was very supportive, as were many of the local businesses. Soon Toni had offers of contributions not only from local architects, but also from nurseries, florists, real estate firms, even a hospital, which offered to donate food for the volunteers when they came to build the garden.
The group chose three days in September, 2002, to start construction. Nearly three hundred volunteers flocked into town to work in three stages: first, the construction crew cleared a large section of the park, while Mitch Hannon, a flight attendant who also owned a construction company, brought his bulldozer. That first day the crew worked with Mitch to produce a grade. The second day another crew, another hundred or so, came in and laid gravel for a trail system. On the third day, another wave of volunteers showed up and planted, using more than three hundred bags of contributed mulch and hundreds of plants, flowers and trees.
"Irrigation was an issue," said Debbie. "So the volunteers formed a huge bucket brigade. They pulled water from a nearby stream until a generator could be set up to run the irrigation system, which was also contributed. It was incredible."
The volunteers wore shirts with the name KENNIFER MEMORIAL GARDEN, the official name for the project. Chic Burlingame's widow, Sheri, an American Airlines flight attendant, helped shovel, saying the work was a perfect tonic.
"Dirt therapy," Sheri called it.
A week later, a formal ceremony was held to commemorate the garden. A white granite bench provided a focal point in the center of the garden. It was inscribed with a message to Ken and Jennifer: KENNIFER. KEN AND JENNIFER LEWIS, SEPTEMBER 11, 2001. AA/77. The letters etched in the white surface were deep, the words to be seen boldly from a distance.
In addition to the projects for Michelle, Ken and Jennifer, the DCA flight attendants also contributed to a memorial for Renee May at the Walters Museum in Baltimore. Renee had volunteered at the museum, working to make the building accessible to blind children. As a memorial to her, the DCA volunteers raised money to buy books in Braille.
"It's important to move on, but first you have to feel good," said Toni.
I found that interesting. "What do you mean, feel good?"
"It's always irritated me to hear people say we should get over it. You don't get over 9/11, but you do have to move on. By being part of a project, working with others to create something that had been important to your friends, that gives closure. But it also creates an opening because you leave something positive behind. Something that endures."
Two ideas occurred to me after talking to Toni: first, the notion that closures create openings, which I had not thought of, but the second point awakened for me the notion that working with others could be a useful tool in the struggle to reclaim hope after a tragedy. Part of the process of recovery was getting support.
Dirt therapy, Sheri Burlingame, Chic's widow, had called it. But whatever name the members of the DCA base chose to give their projects, they had discovered a way to harness connection making skills to a powerful engine, the power of the group.
If you want to get a real boost, find a group of people who all share the same goal.
As Sue Baer, the general manager at Newark airport, once said, no one heals alone.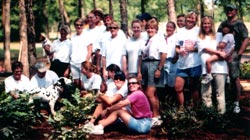 The book will be published by AMACOM (www.amanet.org/books/) in September 06. All profits will go to aviation charities. If you want to be kept apprised of progress, Click here.