| | |
| --- | --- |
| | |
---
Flying the Flag
By Jim Carlton, Ramp Agent, American Airlines, Washington Dulles International Airport
I started to carry a three-by-five foot American flag with me on the tarmac at Dulles on September 14, 2001. I wanted to do something, By the grace of God I had to! I found a four-foot stick and secured the flag to it. The top of the stick was painted black to remind people of the smoke that rose into the air that day. Each flight had a section below the flag where I would place a hash mark and say a prayer for the victims and their families
The first flight I used it on was Flight 76, a 767 from Los Angeles. I stood on top of a tractor and waved the flag back and forth. Every window had two or three faces in it proudly waving back that day.
For 247 work days I carried my flag on the ramp and waved it. When the weather got to my first flag - it was fragile material - I got an all-weather flag. I presented that first flag to Sheri Burlingame, Chic's widow, with 298 signatures I was able to get. When I wasn't waving my flag for American Airlines aircraft I would stand by the taxiway and wave for any plane that came by. I received many blessings, and I still come to tears thinking of them. One pilot, Captain Carmen Villani, would look for me any time he flew into Dulles. He'd make an announcement to his passengers as he pulled to the gate, then he'd look for me, to thank me. That meant so much.
So did the encouragement I received from a flight attendant who stopped me on the concourse at Dulles one day and told me about a passenger she had on her flight the day before.
"Who's that guy with the flag?" the passenger had asked before take-off. "What's he all about?"
She told him my story and he stopped her at the end of the flight to tell her to pass a message along to me. "Tell that guy when you see him that I was in Vietnam. For thirty years I've been angry at everything that flag stood for," he said. "Tell him that what he's doing out there just restored my faith."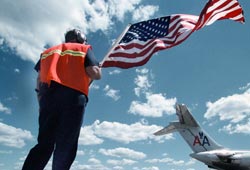 I waved my flag at planes for 247 work days, stopping on October 9. 2002. Captain Villani met a gentleman at an aviation seminar, which led ultimately to an invitation from the Museum of American History asking if we would consider donating the flag. We presented it on September 8, 2004 and on June 4, 2005 the flag went on display at the Museum of American History. It's one of 133 items in the museum's 9/11 collection.
I heard a minister say at a 9/11 service that God does not create every bad thing, but He does help good come out of it. I was just one man, a ramp agent waving a flag, but I hope some good came out of it.
---
A Sister's Love
By Cathie Ong, Betty Ann Ong Foundation, President/CEO

www.BettyOng.org

So much has happened since the tragic events of September 11, 2001 that it seems like a part of history for many people. But for the families who lost loved ones and the individuals who were injured, the pain and sorrow feels as if it happened only yesterday. Their loss and grief knows no end. We must never forget the bravery of those who died or suffered.
It is sometimes difficult to believe that it is now nearly five years since my sister Betty Ann Ong, an American Airlines, Flight 11, flight attendant died. Betty and her colleagues, many of whom she considered her second family away from home, were the first defenders and responders to give their lives heroically on that day. For me, that day changed my life and will forever be etched in my memory.
Betty was a compassionate, pure and beautiful soul with a zest for life. Her joy for life illuminated through the sparkle in her eyes and smile. She had a kind and giving heart, always thinking of others before herself. She had a great love for children and the elderly. Even on her last day, before walking through the door to board her final flight, Betty kissed an elderly gentleman who was working as a gate guard at Boston's Logan Airport on the cheek. His daughter later wrote to tell us that Betty cheered her father up daily because she knew that his wife had recently passed away. Betty spent quality time and shared stories about her far away travels with the neighboring children and often had trinkets to give them. It was important to Betty that children had a positive self-image and self-confidence at an early age.
For those whose only purpose in life is to inflict pain and hurt innocent lives, I want them to know that Betty's legacy will continue. Betty's kindness and goodness was much more powerful than any evil's act. Betty's memory will live on through the hearts of her family and everyone who knew and loved her.
In honor and memory of Betty, the Betty Ann Ong Foundation www.bettyong.org, a not for profit public charity, has been established to serve as a helping hand for overweight and obese children.
The mission of the Betty Ann Ong Foundation is to educate children to the positive benefits of lifelong physical activity and healthful eating habits, and to provide opportunities for children to experience the great outdoors so that they can become healthy, strong and productive individuals.
During the summer of 2006, the Foundation will sponsor children to attend summer camp at Wellspring Adventure Camp California and the Yosemite National Institute's Summer Youth Adventure program.
We are currently in negotiation with Disney Corporation to organize a 5K event during the weekend of September 11, 2006, the fifth remembrance.
The Betty Ann Ong Foundation also serves to pay tribute and honor flight attendants, past and present, for their dedication, hard work and heroism, in keeping the passengers and our skies safe.

---



Any comments? Anything you'd like to share?



Enter your comments below. (If you have a longer "story" to tell, or a story about your experiences, please feel free to go to the PROUDLY I FLY page click here.)




Readers' comments will be discussed in the next edition of our email newsletter. To register for your copy, click here

If you find this forum useful - please tell a friend. The more people who join in, the richer the results for all.