"Reclaiming the Sky"
Resiliency Project for Students
Making "Never Forget" an Action Statement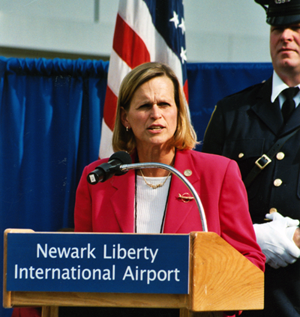 "Reclaiming the Sky" theme:
Service is a response to Loss that leads to Resiliency.
"When you are hurting, look for something you can do for someone else, no matter how small – and do it. That will make you feel better."
-Susan Baer,
General Manager of Newark Airport on 9/11
Resiliency is the ability to "bounce back" from adversity.
"Reclaiming the Sky" tells the story of aviation heroes in Boston, New York/Newark and Washington, DC who "rose up" on September 11. 2001 and performed in extraordinary fashion during the national attack, one in which their industry was used as the means. The book's key theme around "service" is reflected in the comment by Susan Baer, the General Manager of Newark Airport, who said, "When you are hurting, look for something you can do for someone else." That service theme can be a crucial step in learning to be resilient.
Today, many educators are looking for ways to support their students to develop "resiliency strengths" as a bulwark against the escalating challenges of an ever-changing world.
The goal of the "Reclaiming the Sky" Resiliency Project is to give students in participating schools a chance to explore the lessons of "service" reflected in the stories of the aviation heroes – everyday Americans who demonstrate that the pathway to moving forward after loss is, as Susan Baer said, to find a "purpose." That translates into learning how to use our energies (when we are hurting) to help others, and that will help us "bounce back" from loss.
See above, the short video that explains this project.
The project will provide:
Access to FREE copies of the "Reclaiming the Sky" E-Book for students at participating schools. We're working with Harper Collins, the publisher, to get a discounted rate and looking for a donor to cover the cost. (Tom Murphy, the book's author, contributes all proceeds to aviation charities, including the American and United Airlines flight attendant charities.) Teachers at participating schools can assign the book in Spring, 2022 to their students for summer reading, either as a formal assignment or on a voluntary basis. Students then are invited to write a 500 to 700 word essay to tell how they can apply a lesson they learn from someone in the book and use it to "bounce back" from an adverse situation (or loss) in their life, or tell how they have used the principle.
The Cradle of Aviation Museum in NY will host a "Resiliency Roundtable" on September 9, 2022 to give students from participating schools a chance to come together to discuss the key themes with the author, Tom Murphy, along with a group of aviation workers profiled in "Reclaiming the Sky" – and share thoughts and ask questions.
We are working to enlist sponsors to cover the cost of STREAMING the roundtable session in September so teachers in schools all across America, including employees at airports, can watch and participate in the Roundtable.
The goal also is to provide interested teachers with a "curriculum" they can download and use as a follow up for discussion in their classrooms after the Roundtable.
See the letter of support from officials at The Cradle of Aviation Museum. The goal is to make this Resiliency Project an annual event to support the development of resiliency strengths among young people - using the actions of the aviation heroes of 9/11 as a platform. That way "Never Forget" becomes and remains an action statement!
VIEW PARTNERSHIP LETTER from Andrew Parton, President of the Cradle of Aviation Museum in NY.
More enhancements are being added to this project as planning progresses. So check back regularly.
To join in, either as a school or a sponsor, contact Tom Murphy, Director, Human Resiliency Institute at Fordham University at tom@edge4vets.org.
In September 2021 a "pilot" for this resiliency project was offered to commemorate the 20th Anniversary of 9/11. For background on how the success of that pilot has led to this expansion, see this ABC News clip, also return to the HOME page.