Essay Competition Registration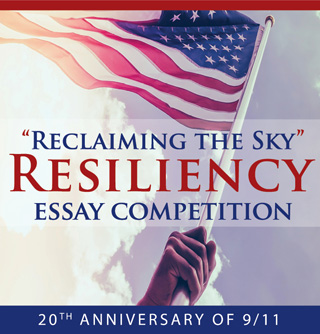 Thank you for your interest in our "Reclaiming the Sky" Resiliency Essay Competition.
As we approach the 20th Anniversary of 9/11 we want to give you an opportunity to tell how lessons of courage you learn from aviation heroes profiled in "Reclaiming the Sky" can help you meet challenges of disruption and loss in your work and life caused by the Covid 19 crisis.
See details of AWARDS and AWARDS CEREMONY.
See profiles on the JUDGES, who include aviation figures profiled in the book.
To be kept apprised of progress with the project, including the schedule for announcing winners - sign up for our "Reclaiming the Sky" newsletter.
We plan to announce winners as part of commemorating the 20th Anniversary of 9/11 this fall - we'll be in touch with the exact date for that announcement. Everyone who entered will get a note from us when the winners are announced.
There will be THREE awards in each of three categories, shown below, along with three Honorable Mention awards:

Airport employee
Inflight airline employee (Flight Attendant or Pilot)
Aviation student (College or High School)
When you are ready to submit your essay, in 500 to 700 words, answer this question:
The examples of courage and resiliency shown by one or more of the aviation workers profiled in "Reclaiming the Sky" have inspired me. Here's how I have learned from their inspiration and used the lessons to meet challenges of Covid 19 in my life.
Choose only one category from the FIVE above and upload a WORD document or PDF file.
NOTE: If you have any trouble uploading, or have a question, contact us at info@reclaimingthesky.com

Tom Murphy
Director, Human Resiliency Institute at Fordham University, and President, Service Institute
Contact Tom at: Tom@TomMurphy.org