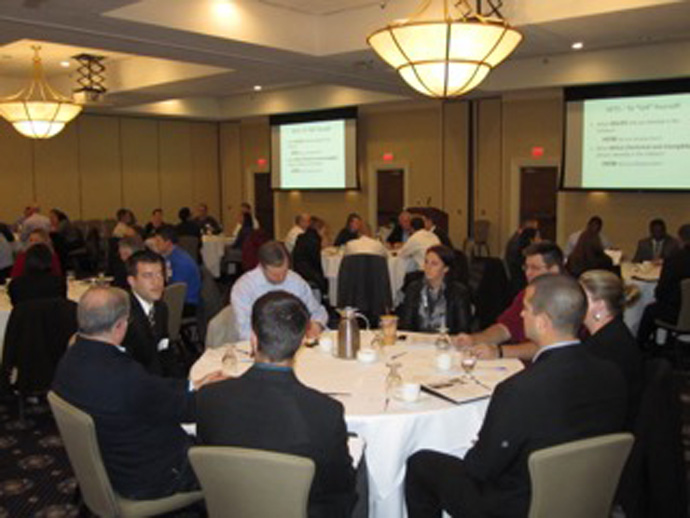 Photo shows the
MASSACHUSETTS PROGRAM
: Veterans get support from employees at our 12 partner companies in the Edge4Vets workshop series at UMASS Lowell. Partners companies providing "workshop mentors" for the series include: Medtronic, Draper, Fresenius, Haemonetics, Vertex, Staples, Eversource, Boston Scientific, Thermo Fisher, Analog, EMC, CVS Health and Pfizer. The workshop series gears up again this fall in MA as well as in NYC and South Florida - see the links below to find out how you can register and gain preparation for a job that can lead to a career.
Fall Workshop Schedule – RSVP Below:
NEW YORK

Workshop:

October 20, 2016
9:30am to 3:30pm
Networking lunch
Hosted by Deutsche Bank

MASSACHUSETTS

Workshop: NORTH

October 14, 2016
9:30am to 3:30pm (w/lunch)
Hosted by UMASS Lowell
RSVP HERE!

Workshop: BOSTON

October 28, 2016
9:30am to 3:30pm (w/lunch)
Hosted by Suffolk University

SOUTH FLORIDA

Workshop: MIAMI

November 14, 2016
9:30am to 3:30pm (w/lunch)
Hosted by Miami Dade College - WEST campus

RHODE ISLAND

Workshop:

November 4, 2016
9:30am to 3:30pm
Hosted by Community College of Rhode Island
Networking lunch included
Knight Campus, 400 East Ave
Warwick, RI 02886
VETS, click on this short video to see how Edge4Vets can give you an EDGE for the job you want!
View the Massachusetts
Edge4Vets program
in action!
See the Florida program in action at Miami Airport, Spring, 2015