---

Recalling heroism of aviation industry
Sunday, September 10, 2006

BY SUSAN TODD
Star-Ledger Staff
Tom Murphy, an aviation industry consultant who kept an office in the North Tower of the World Trade Center for a decade, was flying home to Seattle as the terrorist attacks began to unfold on 9/11.
Like many people, Murphy lost friends and colleagues, and among his memories of the day is a last glimpse of the Twin Towers gleaming in the morning sun, which he caught as his plane headed west out of John F. Kennedy International Airport 20 minutes before the attacks began.
Two years later, Murphy remained moved by the aviation industry's struggles, including those employees whose resiliency he describes in his book, "Reclaiming the Sky: 9/11 and the Untold Story of the Men and Women Who Kept America Flying."
Murphy talked about his work on the book and his decision to do nate all proceeds from its sales.
The fifth anniversary of 9/11 is producing a number of books. How is yours different from the others?
This is the first that focuses on the aviation industry, or the courage of the aviation employees in the country. The way I describe it, is how they rose up that day and how they have continued to rise up every day since. I don't know that they've been given full recognition for that. This is a story of two dozen employees at three airports, Newark, Boston and Washington D.C. and two airlines, United and American.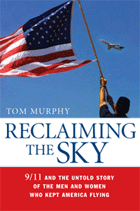 Two years after 9/11, when I found myself stuck, I decided to go back and talk to my colleagues. It occurred to me that I knew many of the people in aviation who had been directly affected by 9/11. They didn't know each other, but I knew them. I set out to learn the secret of recovery. I could see my friends had responded and were continuing to respond courageously.
How did you settle on recovery as a theme for the book?
I got clues from my friends and colleagues in the three cities where the planes left from. I saw a theme emerge. That's the theme the book uncovers and reveals, the secret to recovery. I didn't set out to do a headline on courage. I wanted to go below that and explore the core beliefs these people held and the core beliefs that informed their choices to act in a strong fashion.
What were the core beliefs they drew from to be strong.
When I spoke to Sue Baer (general manager of Newark Liberty International Airport), I asked her, how were you able to make it through this. "You soldier on" is the way she put it. That showed me the importance of action. If there is a central figure in the book, it's Sue. She has this feeling that when grieving, it's best to do. She was leading all the airport employees in the direction of doing. That got me going. I started seeing that everywhere. I said I have to write this as a book. This was the essence of these quiet heroes as I call them at these three airports and the two airlines.
It seems as if it would emotionally draining to revive memories and talk to people in-depth about their 9/11 experiences and emotions. How did you deal with that?
My training as a journalist helped me. I was in a mode that was working for me when I was conducting interviews.
When you look back at the stories you collected, what one stands out as the most poignant?
I met this woman, Anne McFarland, who worked at Logan Airport in Boston. Her daughter Marianne had been a United ticket agent at Logan. They shared a house together near the airport. After Anne's husband died, Marianne moved in with her mother. Anne said they were best friends.
On the morning of 9/11, Anne dropped her daughter off at the airport around 4:30 a.m. Marianne worked until she boarded United Flight 175 with her friend Jesus Sanchez, another agent with the airline. Boston had been very hectic that summer, and now that the slow season had started they were going to Las Vegas. (Flight 175, which was bound for Los Angeles, was flown into the South Tower.)
After Anne learned Marianne and Jesus were on the flight, she went to the family assistance center to comfort others, and then she went back to work. I saw her incredible strength. She was back on the floor doing her job to as sert this belief that you've got to be back out there in life. That was a very powerful lesson.
How long did you spend working on the book?
I started in the summer of 2003. Wherever the story led me, I went. Once I decided to do it, I was going to take it the full length until I understood what was necessary to move forward. By the end of the year I did. Then for two years, I wrote it. A publisher picked it up this year. I probably did 100 interviews and traveled 100,000 miles.
That's a lot of work to do and then decide to donate the book sales to charity. Why did you decide to do that?
What I learned working on the book is the secret to recovery involves finding a purpose, something that takes you out of self and directs your energy for oth ers. It was a natural thing that all the profits would go to charities.
Susan Todd can be reached at stodd@starledger.com or (973) 392-4125.


- Return to the Home Page.
- Read additional Press Clips.