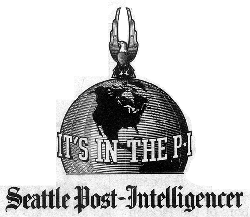 ---

Man helps aviation workers cope with 9/11
Friday, March 21, 2007

BY MARY SWIFT
Seattle PI Staff
On the morning of Sept. 11, 2001, Tom Murphy was on a flight out of New York headed home to Seattle.
As the plane banked, Murphy glimpsed the lower Manhattan skyline. It would be the last time he would see the World Trade Center towers.
Below him a plane was headed for the North Tower, one of two that would hit the World Trade Center that morning, one of four hijacked by terrorists that day.
Murphy, 57, is a Seattle-based business consultant, writer and president of The Service Institute, a company that provides customer service training programs.
The Port Authority of New York/New Jersey was his first customer. Between 1989 and 2001, he trained 30,000 aviation workers, including 14,000 in New York, Boston and Washington, D.C.
For Murphy, 9/11 felt distinctly personal.
How, he wondered, do you move from loss to healing? "I wanted to learn how do we forgive the unforgivable."
For Murphy, the answer came in the personal stories of how aviation workers rose to the challenge that day and in the days that followed.
"What I found was that anyone who was doing better was someone who had found a purpose -- that we move forward by doing for others," Murphy says.
Among his inspirations was Anne MacFarlane, an information agent at Boston's Logan International Airport.
On the morning of the attack, MacFarlane dropped off her daughter Marianne MacFarlane at the airport. Marianne, along with Jesus Sanchez, were customer service agents with United Airlines at Logan heading for a vacation. Murphy had trained them months earlier.
They were passengers on United Airlines Flight 175, the second plane to hit the World Trade Center.
How did Anne MacFarlane cope with so devastating a loss? By reaching out to help others, Murphy says.
"The night of 9/11 she went to the hotel where families were gathering not for herself but to do what she could to help," he says. When the airport reopened, she went back to her job at the information desk.
Last fall, Murphy wrote "Reclaiming the Sky: 9/11 and the Untold Story of the Men and Women Who Kept America Flying." Some 7,500 copies of the book have been sold. He's donating royalties to nine aviation-related charities. Among them: the Cause Foundation, which helps United Airlines flight attendants in need; the Wings Foundation, which does the same thing for American Airlines flight attendants, and the NWA Beacon Foundation, which assists Northwest Airlines flight attendants.
The first checks, totaling $5,000, are being sent out now.
"I just think it's wonderful that someone like Tom would take time out of his busy life to do something like this," says Kathy Ochenrider, president of Cause. Ochenrider, who lives in the Chicago area, has been a flight attendant for 35 years. What Murphy has accomplished, she says, is about more than just raising money.
"This book is a wonderful healing tool for 9/11," she says. "We still have a lot of crew members who are suffering from 9/11. We have people who retired early, people who couldn't return to flying. And you can apply what's in the book to other situations, too."
Murphy, who determined that the lessons he learned "will be ongoing and have long-term impact," is establishing a not-for-profit entity named Reclaim The Sky. A Web site provides an online community center for aviation workers. It's a way for aviation workers to talk about 9/11.
"I believe there's still a lot of under-the-radar suffering going on among aviation workers," Murphy says.
It's also a place for aviation employees to share the reasons they're proud of their work in the industry. Among his current projects, he's collecting a "Thousand Stories of Pride" from aviation professionals to be showcased at the United Nations in September.
P-I columnist Mary Swift can be reached at 206-448-8195 or maryswift@seattlepi.com.


- Return to the Home Page.
- Read additional Press Clips.