---

'Nice' employees honored at airport
Thursday, April 8, 2010

By Tom Fontaine
PITTSBURGH TRIBUNE-REVIEW
Helping out an elderly man stranded at the airport isn't in Jim Steinmiller's job description.
Fortunately, the Pittsburgh International Airport maintenance supervisor doesn't see things that way.
Steinmiller recently helped a man who was disoriented after landing in Pittsburgh get to a doctor's appointment at a Veterans Affairs hospital in Oakland -- and then, after the money he chipped in for the man's cab fare was returned to the airport, he donated it.
He was one of about 50 airport employees honored Wednesday for going out of their way to help passengers or co-workers.
"That's what we're here for," said Steinmiller, 49, of Vanport in Beaver County.
Airport officials said such efforts are critical at a time when air travel has become increasingly unpleasant for many passengers, and challenging for workers. In recent years, the government intensified security screening and cash-strapped airlines added fees, cut flights and shed workers. Pittsburgh International workers assumed many duties airlines once handled.
To fight that, Pittsburgh International employees are learning to be NICE -- to Neutralize Irritations that Customers Experience -- through a training program offered by Fordham University.
"It's about being a problem-solver for passengers when they're stressed out," said aviation consultant Tom Murphy, who heads Fordham's Human Resiliency Institute. The institute offered similar training at New York's John F. Kennedy International, Manchester-Boston Regional and Los Angeles International airports.
Since last fall, about 175 airport employees and volunteers have completed the training. Pittsburgh International has roughly 450 employees and 75 ambassadors.
In addition to a training class, the program encourages workers to shed light on colleagues who go out of their way to help passengers or co-workers. A committee picked five top honorees from roughly 50 nominations.
Steinmiller was one of them.
"I wasn't looking for any credit," said Steinmiller, who won a $50 gift certificate in a drawing among the top honorees.
Another top honoree, engineering construction project manager Joe Amuso of Aliquippa, last month followed a trail of blood into a restroom, where he found a man who cut himself when he fell down an escalator. Amuso stayed with the man until medical help arrived. He won a flat-screen TV in yesterday's drawing.
Heavy equipment mechanics John Rourke of Ross, Dale Plannick of Robinson and Bob Willis of Forest Hills were recognized for creating a device that makes it easier and safer to replace worn bristles on 9-foot-long, 1,000-lb. broom heads used for snow removal. They won gift certificates.


---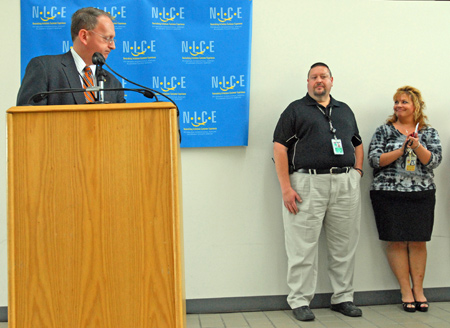 Jim Steinmiller (center), a maintenance supervisor at Pittsburgh International Airport, is recognized by Allegheny County Airport Authority Executive Director and CEO Bradley D. Penrod (left) and Joan McBride during an award presentation Wednesday. The ceremony was to recognize employees who underwent training for the Neutralize Irritations in Customers Experience (NICE) program. Steinmiller helped to pay for an elderly man's cab fare to the VA hospital when he became sick at the airport. McBride, an airport employee, nominated Steinmiller for the award.




- Return to the Home Page.

- Read additional Press Clips.