---

Workers' angst rerouted at JFK Airport
Tuesday, May 13th 2008

BY JESS WISLOSKI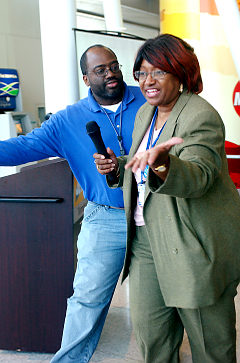 Weary airline customers aren't the only ones frustrated by the recent spate of flight delays and security line hassles, according to workers at JFK Airport.
Now, a new program to help airport workers cope with unruly customers could bring some relief from the onslaught of profanity and the occasional fistfights.
"I think this will go pretty far," said Anamaria Sotelo, 23, a supervisor for AeroMexico.
Sotelo - who recalled an incident when a passenger nearly clocked her co-worker by hurling a courtesy phone at her head - was one of 30 in the inaugural class of a program called "Resiliency Edge," which began last week at JFK.
Sotelo said the program seems more effective than other customer training because "it enlightens us more" as to what makes them love their jobs.
"We as customer service agents need to be refreshed that this is why we are doing it," Sotelo said.
The program was designed by the Human Resiliency Institute at Fordham University. Tom Murphy, an industry consultant and director of the institute, said he hopes the program will reduce the kind of hostile behavior created by tense situations.
He explained how to improve job satisfaction by, basically, doing the job right.
"You help travelers, and you will go home more rested at the end of the day," Murphy said.
The program is expected to expand throughout JFK by late June and may be implemented at LaGuardia and Newark airports by the fall.
Kate Hanni, president of the Coalition for an Airline Passenger's Bill of Rights, was guardedly supportive.
"I am a little cynical, but we would applaud if the airlines would step forward and pay for this," she said.
Companies that contract to operate the parking lots and the AirTrain, along with individual international front-desk workers such as Sotelo, have enrolled in the program. So far, no airlines have signed on.
Hanni's efforts to improve customer service began after passengers in 2007 snowstorms were grounded in planes for up to 10 hours with no food, water or toilet access.
A state law ensuring passenger comfort, which legislators passed last fall, was tossed in March by an appeals court that maintained the federal government had oversight of airlines.
Last week, an aviation law overhaul stalled in the U.S. Senate and no action by Congress is expected until 2009.



- Return to the Home Page.
- Read additional Press Clips.