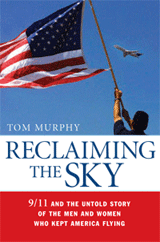 ---

THE BOOK REVIEW CORNER


By Milagros Teran
Northern Virginia Family Services
I started reading this book out of curiosity. I wanted to know what really happened at the airports the morning of 9/11 when all hell broke loose. More than that, it was the subtitle that caught my attention: the people "who kept America flying." We have heard the stories about the brave first responders who died that day, but the heroism of aviation employees that morning has not been as widely reported. Thirty-three aviation employees died that day, but many others who, in spite of their pain and suffering, continued to work and managed to get all 3,949 planes in the air over the United States to a safe place.
Soon after I started reading, I realized this was a story about the power of community and the power of the group. As I continued, it was the mixture of emotions and discovery that absorbed me until I finished the last page. It was each one of them, and all of them at the same time, who contributed to the book. The author, Tom Murphy, was the conduit through which we hear their stories. This was unbeknownst to him at the beginning. He didn't know what he was seeking. He began a personal journey to try to make sense of what happened. Along the way, he encountered wonderful people - beautiful human beings - who harnessed their courage and called up their drive to move forward. He learned so much and found that those he spoke with had much to teach us.
Tom Murphy describes his own personal journey of healing in a candid, honest way. Through his narrative, we learn about the departed, the gifts they left us, the "DCA Gathering Place," the lessons of the ones who survived: "the recovery ideas" he calls them the "core beliefs." To soldier on, to take time, make connections with other people, and get support.
Throughout the pages of the book, we hear the constant affirmation that "every moment since 9/11 has been a tug between 'remembering' and 'moving on.'" That has been the challenge: to find the balance between those two choices: "enough that we can gain release not to move 'on,' but to move forward, and there is a difference."


- Return to the Home Page.
- Read additional reviews.