---

Former flight attendant thinks of 9/11 'almost every day'
Monday, September 10, 2007

By JANET FRANKSTON LORIN
The Associated Press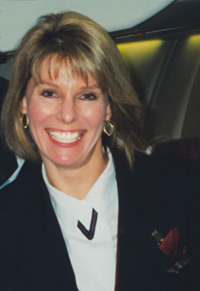 NEWARK, N.J. (AP) — After nearly 30 years with United Airlines as a flight attendant and supervisor, Eileen Ammiano is now six jobs and four years past her life at Newark's airport.
But she still vividly recalls that morning six years ago, on Sept. 11, 2001, when she almost boarded United Airlines Flight 93.
"I think about it almost every day," said Ammiano, 54. "Something will trigger it. It doesn't even need to be airline-related."
Flight 93 was en route from Newark to San Francisco when four terrorists hijacked it, likely with the goal of crashing into the White House or the Capitol.
At the time, Ammiano worked as a supervisor and mentor to new flight attendants, and part of her job entailed observing them at work.
That morning, she initially considered taking a flight scheduled to leave at 8 a.m. to oversee a new flight attendant working it. But because the Flight 93 crew was so experienced, Ammiano felt her time was better spent observing two new hires on a later flight, even if that meant adding five more hours to her work day.
Like many people who survived the Sept. 11 terrorist attacks on the World Trade Center and the Pentagon, Ammiano's change in plans that day — seemingly insignificant at the time — became the most significant decision of her life.
The New Jersey native still thinks about what could have happened if she hadn't made that choice.
"I'd be dead, that's that," she said matter-of-factly, sipping a latte on Monday at Newark Liberty International Airport, an old workplace she now visits occasionally for lunch with former colleagues.
Ammiano is among about two dozen current and former airline and airport workers who contributed their stories to a book published in 2006 called "Reclaiming the Sky," about how they moved forward after the Sept. 11 tragedy, which marks its 6th anniversary Tuesday.
The author, customer service consultant Tom Murphy, trained many of the airline and airport employees before and after the terrorist attacks.
"I wrote the book to learn the secret to recovery," said Murphy, who was had his own "what if" that day. He was scheduled to attend a meeting at the World Trade Center, but it was canceled the day before.
In early 2003, he decided to collect the stories of airline and airport workers who had been directly touched by the attacks. He was curious how they coped.
"These people, by their courage and example, teach us how to do that with confidence and hope," he said. "Anyone who was moving forward was someone who found a purpose."
Ammiano is one of them.
After she decided to take a later flight to the West Coast, she headed to her office on the ground floor of the airport — an area with poor cell phone reception and no televisions.
About an hour later, the husband of a colleague called with news of a small plane crashing into the World Trade Center. After 45 minutes of confusion, another colleague's husband began relaying messages from his wife — on her cell phone aboard United 93 — Ammiano said.
Like the rest of the world, Ammiano soon understood the significance of the events and their direct tie to her and her co-workers.
She managed to contact her 16-year-old daughter, Stefanie, to tell her that the plans she'd mentioned that morning — an early trip to the West Coast — had changed and she was safe.
Then she moved into crisis mode, dispatching colleagues to the homes of the three Flight 93 attendants who lived the New York area. She answered calls from concerned fight attendants, and helped manage the airline's operation as the Newark airport shut down.
In fact, Ammiano said she didn't realize her proximity to death until she returned to her Bedminster home, about 30 minutes from the airport, just before midnight.
"It didn't sink in until I got home that night," she recalled. "My daughter hugged me, saying 'Mommy, it could have been you.' That's when I got numb."
After the attacks, she stepped up her work with a charity that supports United flight attendants.
"It helped us process the grief," she said. "You never get over it."
The group also helped raise money for the families of the five United 93 flight attendants, who were based in Newark, and established a memorial in Shanksville, Pa., where the flight crash landed. It was unveiled last year on the 5th anniversary of the attacks.
She continued to work for United Airlines for another two years before being laid off when the airline went into bankruptcy.
She now works as a meeting planner for the pharmaceutical industry at an office in Union, about 10 miles from the airport but a lifetime away from her former life there.
While her volunteer work gave her a purpose in the aftermath attacks, she also gained a new perspective about how to live life each day.
"Everything matters," she said. "You make decisions. You don't let life happen."



- Read additional news stories.
- Return to the Home Page.
- Read stories on our Message Board.