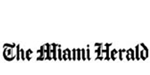 ---

Students mine lessons from past pain
June 22, 2006

BY ANI MARTINEZ
Miami Herald Staff
Shortly after the Sept. 11, 2001, terrorist attacks, Asil Aljamal found her home vandalized with thrown eggs, her friends no longer wanted to be with her and she was pressured to stop speaking Arabic in public.
Now, with the help of a writing class at Miami Dade College, she is learning how to put her pain into words.
"I was discriminated [against]," said Aljamal, who was born in Jordan and is a second-year student at the college. "I had people call me a terrorist. I had people tell me I had a bomb in my bag."
Aljamal and other students in the writing class were asked to dredge up feelings of pain and loss to connect with the aviation workers who died Sept. 11, 2001.
Tom Murphy, creator of www.reclaimingthesky.com, a nonprofit program designed to help aviation employees recover from the attacks, spoke to the students Monday.
"We're talking about loss today," said Murphy, a former vice president at St. Thomas University, who is now based in Seattle. "The people I worked with were affected directly, but everyone was affected indirectly."
Students shared stories about how family members lost their jobs, were forced to relocate or how their grief was overlooked in difficult times.
"People told me it's [a] part of life to die, but it is also part of life to deal with grief," said Nicole Garcia, 20, whose friend died in a car accident. "When I started dealing with it, I found a person who I didn't know existed."
Murphy, president of the Service Institute, was invited to the class by Peter Monck, a professor at Miami Dade College and a colleague he had not seen for 40 years. Murphy created the website after talking to friends and colleagues at the three airports used as departure points for the terrorist attacks, as well as American and United airlines.
"The people who found a purpose were people who found a way to connect with something else and come out of their own pain," said Murphy, who was scheduled to be in the North tower of the World Trade Organization on that fateful day, but his meeting was canceled.
He also wrote a book titled Reclaiming the Sky, which will debut in August. All the proceeds will be donated to aviation charities or charities set up by family members who lost someone as a result of the events of that day.
The students will incorporate the lessons they learned Monday throughout the summer writing course. They will apply it to writing assignments, novels and stories. Their first assignment will be to explore a connection with a story on the message board written by the sister of a flight attendant on the plane that crashed into the North tower.
Much like the stories on the message board, the students shared how they worked through their pain.
Aljamal, for example, became a peace ambassador for her high school, Southridge, two months after the attacks.
"I was very emotional and didn't even want to go to school," she said. "We went from school to school teaching people about different cultures and trying to identify with others."
"I think I moved forward by doing something about it," she added.


- Return to the Home Page.
- Read additional Press Clips.