---

Book Helps Students Learn From 9/11's Aviation Heroes
Friday, November 17, 2006

Garden City News
What can high school students learn from aviation workers who rose up with courage on 9/11?
The answer is "a great deal," as was seen at Chaminade High School on November 9, where Tom Murphy, Garden City author of "RECLAIMING THE SKY: 9/11 and the Untold Story of the Men and Women Who Kept America Flying," talked to 1600 students about ways young people can apply the book's lessons of courage to their own lives.
In addition, Reclaiming the Sky introduced an essay competition to give students an opportunity to express what they learned and earn a "behind the scenes" tour of a New York/New Jersey airport, arranged in conjunction with the Port Authority of NY/NJ.
Terri Rizzuto, who worked as the Untied Airlines station manager at Newark airport on 9/11 - where Flight 93 departed from - joined Tom Murphy to offer her insights into the bravery she witnessed first-hand. Ms. Rizzuto, who oversaw a staff of 700 employees on that tragic day, is one of the heroines profiled in Reclaiming the Sky.
"Chaminade gets great credit for playing a leadership role to help us expose students to these powerful lessons," said Murphy, who grew up in Garden City, lives in town part-time still and had four brothers attend Chaminade. "Often young people get overlooked when assessing the impact of 9/11, yet today's students will inherit our post 9/11 world. What are we doing to prepare them? Hopefully this book can play a role."
Already other communities in the New York metropolitan area have inquired about ways their students can use the book, Reclaiming the Sky, to help their students learn from the heroes in the story and express what they gain in essay form.
"Ultimately, the goal is to give students across the country an opportunity to explore the effect that day had on them," Murphy said. "I'm grateful to Chaminade for taking the lead on this project."
All profits from Reclaiming the Sky go to aviation charities.
For details about the book, including details on the essay competition, visit reclaimingthesky.com.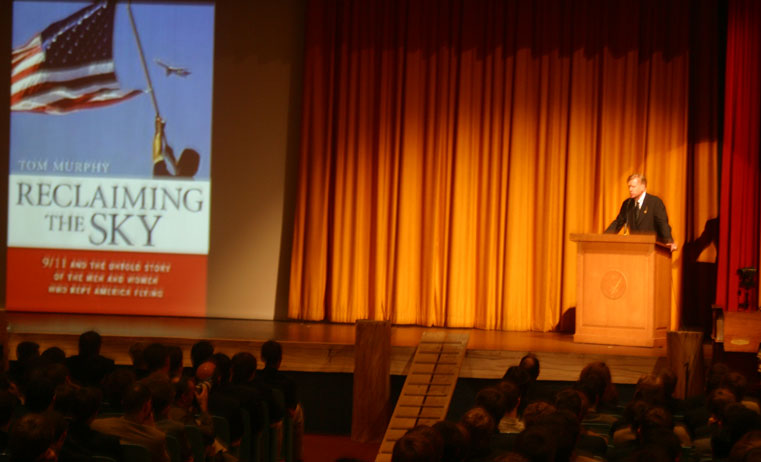 Tom Murphy, author of Reclaiming the Sky: 9/11 and the Untold Story of the Men and Women Who Kept America Flying, speaks to 1600 Chaminade students Nov. 9.



- Return to the Home Page.

- Read additional Press Clips.