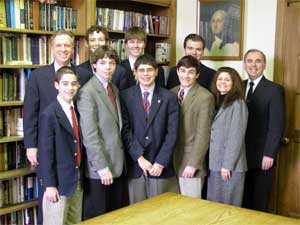 ---

Reclaiming the Sky Presentation to 1600 Chaminade High School Students
November 9, 2006
Terri Rizzuto, station manager for United Airlines at Newark on 9/11, joined Tom Murphy, author of Reclaiming the Sky: 9/11 and the Untold Story of the Men and Women Who Kept America Flying, to offer a presentation on the themes of aviation courage to 1600 students at Chaminade High School in Mineola, New York. Students were invited to write an essay expressing insights they gained.
The winner, Joe Crapotta, a freshman, told how on 9/11 his father's phone call to his uncle at Ground Zero cut off at 9am. Joe, who was in fourth grade, and his father set out to look for his uncle - and found him wandering the streets in shock. In his essay – shown below - Joe tells how "Reclaiming the Sky" helped him address his unresolved emotions.
Above, Joe is shown standing in the first row, center, with other students who won awards in the competition, and with Tom Murphy, Terri Rizzuto, Fr. James and Brother Joseph, Chaminade's Principal and Headmaster. Brother Lawrence directed the project. Honorable mention winners are: Giancarlo Santora, Ryan Horrmann, Dennis Grabowski, Jimmy Kovar and John Dautzenberg.


Winning Essay
By Joe Crapotta, Class of 2010
The 9-11 attack was such an egregious act because civilians were targeted. United States planes, pilots, flight attendants, and passengers unwillingly became accomplices to a mass murderer's scheme. Before I read the book, Reclaiming the Sky, by Tom Murphy, my perspective of 9-11 remained quite myopic. My Godfather witnessed a plane striking one of the towers across the street from his office. He telephoned my grandfather, asked him to turn on the TV, and then the phone disconnected. That last communication came at around 9 am. My family sat vigil for hours. My parents decided to search for my Godfather, Uncle Chris. They walked the Queens streets helplessly, never hopelessly, searching for my uncle. He was found wandering the streets of Searingtown in a delirious state, dehydrated, and ashen covered… clinging so tightly to his legal briefcase that his hands were bloody raw. He was in shock. My Dad stripped him of his business suit and changed his clothing so my aunt would not see the evidence that clung to the fibers of his suit and his skin. He kept murmuring that he walked through Hell – flames, body parts, heinous screams and sirens, and a constant cacophony of hysterical human beings - Americans.
Nowhere do I recall reading or hearing about the efforts put forth by the Port Authority. Never once did I think of the airport personnel who were responsible for the "shut-down" of the sky until Murphy's book. He reveals how one airport manager, Sue Baer, directs the immediate road to recovery for our nation. She is a healer. Her wisdom and calculated decision-making teaches me to be strong in the hour of need – albeit a death, an accident, or a personal conflict. I will think of Sue Baer and how she looks across the harbor at that empty space.
I never thought of the airport family. I never once thought of these innocent people who were unknowingly part of the plot. I never thought of the flight attendant who collected the terrorists' boarding passes. Now I will always think of a mother named Anne MacFarlane, who lost a daughter on 9-11. I will always think of her focus of not "in" but "out". "Nobody heals alone – reach out, take the first step and progress will result."
It would be too contrite to write that I will learn to apply the bravery, acumen, and precise decision-making of these aviation heroes to a personal goal of achievement. I will become an adult American who, to the best of my ability, will serve his people, just like all the aviation heroes do for us each and everyday.
And, I will never take a clear blue sky for granted.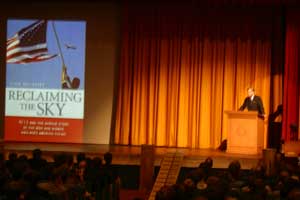 - Return to "Claiming the Future" page
- Return to Home page