---

Kennedy workers get 'nice' training
Tuesday, May 6, 2008

By Marlene Naanes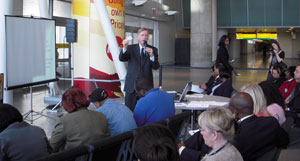 Tom speaking to aviation workers at Kennedy Airport
With the summer travel season poised to be one of the worst ever, airline passengers will have even more reason to scream.
But at Kennedy Airport's International Terminal, some well-trained employees will have fewer reasons to holler back. That's because at least 500 of them are getting trained on how to be nice.
Yesterday, the 50 ticket agents, parking attendants and AirTrain employees that attended the first class learned that resiliency in the face of bad weather or canceled flights is key to their own happiness.
"Those who help travelers help themselves," Tom Murphy, told the first students yesterday in the program run by the Human Resiliency Institute at Fordham University.
"The travelers will be happy and you will go home more rested at the end of the day.
"A federal transportation department study found that booming flight delays fuel passenger gripes, with a 70 percent increase in complaints in 2007 compared to 2006, an eight-year high.
Those complaints sometime translate into hostility. Last month a woman was arrested at Kennedy after saying she had a bomb in a bag that had left without her on a plane. That jet had to be diverted.
In her four years as an Aero Mexico supervisor, Ana Maria Sotelo has experienced it all. Once, she and colleagues had to pool their own money to calm a mother who couldn't pay a fee for having an infant on board.
"She was really crying, and mouthing off and saying foul language," she said. "I was very tense."
At the class yesterday, Murphy advised those on the frontlines to keep their voices down even when a passenger's goes up. He gave attendees cards with tips, and told them to focus on why they try their best when the worst happens.
Shellyann McKay, 28, an Air Train agent-operator, said that advice was the most helpful.
"This helps you perfect skills you already have and gives you the steps you should take ... because no two situations are ever the same," she said. "You might encounter a passenger who wasn't helped or someone tried to help them and gave them the wrong information, and by the time they get to you they've had it.
"The training has already garnered the attention of Newark and LaGuardia airports and some airlines, Murphy said, and he hopes to roll it out nationwide. The program kicked off just before summer delays threaten to escalate airport employees' stress.
Last month, the federal Department of Transportation Inspector General warned that approved flights at Kennedy alone are up almost 9 percent this summer. This follows a disastrous summer of '07, when record delays allowed only 59 percent of flights to arrive on time at Kennedy.
Kate Hanni, executive director for the Coalition for an Airline Passengers Bill of Rights, said the training could help if the airlines participate, but more needs to be done to help passengers and stretched-thin employees.
"I think it would be a short term solution but it's not going to solve a lot of the problems," she said. "They need to bring in more employees now more then ever."
*** Tips airport employees were given for dealing with irate travelers:
Stay calm. When a customer's voice goes up, yours goes down.
Give customers the facts.
Brainstorm about options and alternatives. Show travelers how you can work together to help them get through the airport safely, swiftly and courteously.