"Reclaiming The Sky" Essay Winners Gain Recognition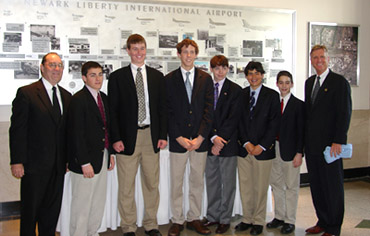 Chaminade students recognized at Newark airport for their "Reclaiming the Sky" essays include Giancarlo Santora, Dennis Grabowski, Ryan Hormann, Jimmy Kovar, Joe Crappota and John Dautzenberg. On the left is Bro. Lawrence Syriac. Tom Murphy, the book's author, stands right.
Six Chaminade students, including Joe Crappota from Garden City, were recognized by the Newark airline station managers in May. The students were saluted for their winning efforts in a "Reclaiming the Sky" essay competition designed to give students an opportunity to express "life lessons" they learned from the courage of aviation workers on 9/11.
The program, based on the book, "Reclaiming the Sky: 9/11 and the Untold Stories of the Men and Women Who Kept America Flying," by Garden City-raised author, Tom Murphy, tells the story of courageous aviation professionals from New York, Boston and Washington who "rose up" to the challenges of 9/11.
In the program, students read the book then explore how to apply the "leadership principles" of the aviation heroes to their own lives to make them better decision-makers.
In addition to Joe Crappota, who won the essay competition, other Chaminade students recognized at the Newark airport ceremony were Giancarlo Santora, Ryan Horrmann, Dennis Grabowski, Jimmy Kovar and John Dautzenberg. They were accompanied to the ceremony by Fr. James Williams and Brother Lawrence Syriac.
For more information about the book and the program for students, see reclaimingthesky.com.